MONTANA IS HOME TO SOME OF THE LARGEST SAPPHIRE DEPOSITS IN THE WORLD. Long winters and legitimate environmental concerns have kept commercial production to a minimum, especially when compared to the traditional world sources of sapphire.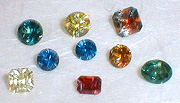 Sample of the variety of color found in our Montana sapphire
The Montana sapphires we offer come from our own source of rough and are heat-treated locally through a process that demands exacting conditions and is founded on years of experience. The same care is given to our cutting.
The end result is some of the finest Montana sapphire available on the market today. In terms of richness of colors, our gems can stand up to some of the best in the world, including the famed Yogo sapphire.
Quality and customer service are our prime concerns. We also believe in making our products available at reasonable prices. We pride ourselves in giving our customers the best possible quality for their expense, and we back that with an unconditional guarantee.
Studio Montana offers you one of the finest and largest selections of sapphire jewelry in the country.

Braclelet samples from our Sapphire Jewelry pages
All in a dazzling array of colors and at substaintial savings with our "mine to market" pricing.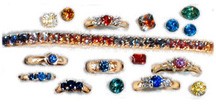 NEW 14 k Gold Pendant with .40 point
Blue Montana Sapphire
$155.00
(Chain not included)



Sterling Silver and Sapphires

NEWSterling Silver Montana Matched Pair Stud Earrings set with Classic Montana Blue Sapphires.
NEWSolid sterling silver pendants, each inset with a genuine 20 pt. pink or blue Montana sapphire.
NEW Sterling Silver filigree ring set with a .55 carat blue Montana sapphire.


Sterling silver filigree heart pendant, 1 x .75", with 20 point pink or blue Montana sapphire. 18" sterling silver chain included.
$34.00


Sterling silver tree frog pendent, 1.25 x .75",
with 20 point Blue Montana sapphire. 18"in. sterling silver chain included.
$32.00
All sales and inquiries call direct to our Montana location. Phone (406) 227-3541 or e-mail us at jack@studiomontana.com.

Visit our Gallery featuring the original oil paintings of Montana artist Ellen Christine Leidl.

Basic Montana Blue
We have an extensive inventory of loose Montana sapphire to create your own custom designs. These are now available at remarkably low prices for stones that are exceptionally clear, brilliant and well cut.
To find out more or place an order, call us in Montana: Tel: 406 227 3541 FAX: 406 227 3747
e-mail: jack@studiomontana.com. We accept Visa, MasterCard, Check or Money Order.
$3.00 shipping and handling.
Satisfaction Gauranteed.
Studio Montana: (406) 227-3541
Visit our new Sapphire Jewelry Pages