Welcome to Studio Montana Sapphire Jewelry Pages
We now offer you a large selection of beautiful sapphire jewelry over the Internet
Spectcular "one of a kind" Sapphire Bracelets.
Studio Montana carries one of the finest and largest collections of sapphire jewelry in the country. All in a dazzling array of colors and all at substaintial savings thanks to our "mine to market" pricing.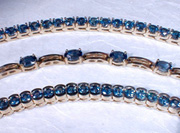 Bracelets from top to bottom:
K.1 - Montana blue tennis bracelet, 14 carats total weight, average 4.1mm per stone, 14k yellow gold mounting. $3,600

K.2 - Royal Blue tennis bracelet, 7.5 carats total weight, 6x4mm sapphire, 14k yellow gold mounting. $2,800

K.8 - Montana blue tennis bracelet, 11.2 carats total weight, average 3.5mm per stone, 14k yellow gold mounting. $3,500

To find out more or place an order, call us in Montana: 406 227 3541

e-mail: jack@studiomontana.com

FAX: 406 227 3747

Visit our Gallery featuring oil paintings of the evocative Montana landscape by Montana artist Ellen Christine Leidl.


NEW 14 k Gold Pendant with 40pt
Premium Blue Montana Sapphire
$155.00 (sold wtihout chain)

more pendants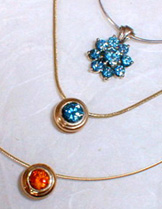 Pendants from top to bottom:
M.1 - Light blue, seven-stone pendant, 3.3 carats total weight, 14k yellow gold mounting (chain not included): $1,035

M.2 - Bright medium blue, 1.0 carat, 6mm pendant, 14k yellow gold mounting (chain not included): $575

Fireball orange: Special order item; sizes vary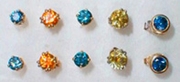 We have hundreds of matched pair earrings on hand. Depending on size and color, prices start as low as $150 per pair for 3.5mm premium blues to $500 plus for larger gemstones.
Note: Some unusual colors such as the oranges may have to be special ordered.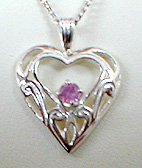 NEW Sterling Silver Jewelry - Montana Sapphires set in Sterling Silver Pendants,Earrings, and Rings.
NEW Special Edition Frogs and Hearts Sterling Silver with 20pt. Pink or Blue Montana Sapphire.$32.00 - $34.00
NEW !4 k Gold Pendants set with a Beatiful 50pt. Montana Blue Sapphire $165.99
NEW Filigree Sterling Silver Rings set with a 60 pt. Blue Montana Sapphire $140.00
NEW Sterling Silver Stud Style Earring s set with matching Blue Montana Sappphire from $ 58.00 - $80.00
See Sterling Silver and Sapphire
Great prices. Great product. Designed exclusivly for Studio Montana.
We also have an extensive inventory of loose cut Montana sapphire available over the Internet (in certain colors and cuts only). These are now available at remarkably low prices for stones that are exceptionally clear, brilliant and well cut.

Basic Montana Blue
All sales and inquiries call direct to our Montana location. Phone (406) 227-3541 or e-mail us at jack@studiomontana.com.
Shop Montana. We accept Visa, Mastercard, Check or Money Order.


$3.00 shipping and handling.
Satisfaction Gauranteed.