Studio Montana has two locations: Our store in Bellevue, Washington, and our loose sapphire and internet jewelry service in Helena, Montana.
If you are in the Greater Seattle Area, visit our Bellevue location at 601 108th Ave. NE Suite 120 or phone (425) 453-3193. All other sales and inquiries call direct to our Montana location. Phone (406) 227-3541 or e-mail us at jack@studiomontana.com.
Our Store in Bellevue:
Hours: Monday through Friday:
10:00 a.m. to 6:00 p.m.
Saturday by appointment
601 108th. Ave. N.E. Suite 120,
Bellevue, Washington 98004
To find out more call us
in Bellevue:
425 453 3193

mtbluebelle@uswest.net

FAX: 425 454 1184
For loose sapphire and internet jewelry call us direct in Montana:
406 227 3541

jack@studiomontana.com
or: ellen@ixi.net

FAX: 406 227 3747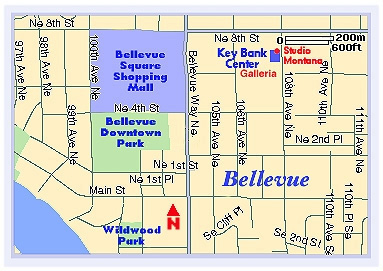 In Bellevue we are located just two blocks fromthe Bellevue Square Mall
on 108th N.E., in the northeast corner of the new Key Center.